Please call us with any questions you may have and to make reservations!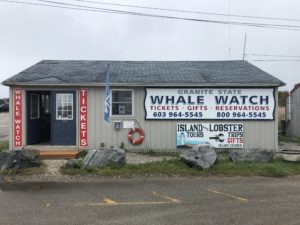 Please note that we cannot make reservations by mail or e-mail.
Granite State Whale Watch and Island Cruises
Rye Harbor
1870 Ocean Blvd
PO Box 768
Rye NH, 03870
E-mail: [email protected]
Phone: (603) 964-5545
GPS – use with caution!
1870 Ocean Blvd (Rte 1-A), Rye, NH 03870
Please be aware that your GPS will at least get you close to us, but might not get you right to the harbor. Some send you too far north on Ocean Blvd., others too far south. We recommend following the directions below; if you prefer to use online maps, Google Maps has our location marked correctly.
FROM POINTS NORTH ON I-95
Rte 95 South. Take Exit 5 for the Portsmouth Traffic Circle. From the Traffic Circle: Take Exit for Rte. 1 ByPass South. Follow 2 miles to 7th light at Elwyn Rd. Take left onto Elwyn Rd. Follow 1.4 miles to Rte 1-A South. Continue straight for 6 miles, Rye Harbor will be on your left.
FROM POINTS NORTHWEST ON RTS 4&16
Proceed to Portsmouth Traffic Circle. See above directions.
FROM POINTS WEST
Rte 101 East. Take Exit 12. Left onto Rte 111 East, follow 6.4 miles to Rte 1-A. Left onto Rte 1-A North. 3 miles to Rye Harbor.
FROM POINTS SOUTH ON I-95
Rte 95 North, take Exit 2 onto Rte 101 West. Follow 1 mile. Take exit 12. Right onto Rte 111 East (see above for 111 East).